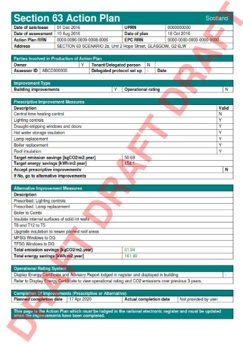 Section 63 is the Scottish equivalent set of regulations to MEES in E/W. The regulations aim to bring older, non-domestic properties of over 1,000 sqm and built before 2002, up to the energy standards as at 2002 building regulations.
Generally, owners of such buildings also required to provide a valid Energy Performance Certificate (EPC) in such situations.
Where the regulations apply, the owner of the building must undertake further assessment to produce an 'Action Plan' which identifies targets for improvement of the carbon and energy performance of the building and how these targets would be met through physical improvements to the property.  Once an Action Plan is finalised, the owner can choose to improve or to defer the improvements by reporting operational energy ratings (actual measured energy use via a Display Energy Certificate or 'DEC') on an annual basis. All Action Plans and DECs are lodged to the Scottish EPC Register.
Carbonbit has experienced assessors nationwide, so contact us for details.