Lissa's Friday Blog – What is COP?
Recently, I am sure, many of you will have been reflecting a LOT about COP. On the news and here on LinkedIn COP has been a big topic these past few months but why? What is COP?
COP stands for conference of the parties. For almost 3 decades the United Nations (UN) have brought together nearly every country for a global climate conference. COP26 (the 26th conference) was the most recent summit in Glasgow, in November 2021. 38,457 delegates attended, including me, making COP26 the largest summit in history.
COP26 saw nearly 200 countries agreeing to the Glasgow Climate Pact to 'keep 1.5 alive'. All countries agreed to meet again in 2030 to revisit emission targets known as Nationally Determined Contributions (NDCs). COP takes place every year with the first meeting being held in Berlin, Germany 1995; COP27 will be held in Egypt in November 2022. Maybe I will see you there?
COP26 finalised the 2015 Paris Agreement which set out to keep global temperature rise well below 2degrees but as COP26 president Alok Sharma said 'a 2 degrees world is a death sentence' it's important we stay well below that, aiming to 'keep 1.5 alive'.
We have now reached a global temperature of circa 1.1 degrees. If we reach 1.5degrees there are many detrimental effects such as: 1.7 billion more people experiencing severe heatwaves at least once every five years, sea levels rise – on average another 10 centimetres and coral reefs could decline up to 99%!
It is SO important we do KEEP 1.5 ALIVE!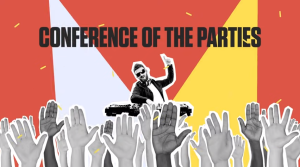 #like #share #cop #climatechange #carbonbit #sustainability